The ICAI recently suggested a CA new scheme of education and training, dubbed the "ICAI CA New Scheme 2023." All three levels of the CA Course and the three-year practical training have undergone significant changes under the redesigned educational framework.
The new CA syllabus for 2023 combines some papers from all three levels while removing others. The new model also shortens the CA articleship time from three to two years.
| | |
| --- | --- |
| ICAI CA Course Level | New Changes |
| CA Foundation | 4 subjects from 6 subjects |
| CA Intermediate | 6 papers (3 in each group) |
| CA Articleship | Period reduced from 3 to 2 years |
| CA Final | 6 papers (3 in each group) |
ICAI CA New Scheme of Education and Training 2023
Let's first look at the length of the CA Course under the new structure before delving into the specifics of each course and training.
In the new CA plan, which will be in effect starting in May 2024, it will therefore take a student 42 months to become a chartered accountant.
| | | |
| --- | --- | --- |
| ICAI CA Course Level | Current | New Changes |
| CA Foundation Registration/ Appear 10 + 2 | Start | Start |
| CA Foundation Study Period | 4 Months | 4 Months |
| CA Intermediate Study Period | 8 Months | 8 Months |
| CA Articleship | 36 Months | 24 Months |
| CA Final Study Period | – | 6 Months |
| Total CA Course Duration | 48 Months | 42 Months |
| Work Experience for CoP | – | 12 Months |
CA Foundation New Course 2023
There isn't currently a requirement for how many times one must retake the CA Foundation course. Students may therefore make as many attempts as they choose. Additionally, the CA Foundation registration validity may be renewed numerous times.
However, under the proposed education and training plan, kids may enrol after the 10th, and their registration with the CA Foundation is good for four years. After those four years, students are also not permitted to revalidate their foundation registration.
Additionally, there will no longer be a cut-off date for CA Foundation enrollment like January 1 or July 1. This will make it possible for ICAI to hold three exams each year.
CA Foundation New Syllabus 2023
Currently, there are 6 subjects and 4 papers in the CA Foundation syllabus. Currently, Business Correspondence & Reporting and Business & Commercial Knowledge have been eliminated from the new programme by the ICAI.
The following is the new CA Foundation curriculum for 2023:
Accounting Paper 1 (100 Marks)
Business Laws Paper 2 (100 Marks)
Quantitative Aptitude Paper 3 (100 Marks)
Logical Analysis Business Mathematics Statistics
Business Economics Paper 4 (100 Marks)

CA Foundation Passing Criteria
The CA Foundation test pattern has also undergone some adjustments thanks to the ICAI. According to the new system, students must receive 50% of the possible points to pass the CA Foundation tests, and each incorrect MCQ answer will result in a.25 point deduction.
| | |
| --- | --- |
| Current | Proposed |
| Subjective and Objective both | Subjective and Objective with negative marking (.25) |
CA Intermediate Course under New Scheme 2023
CA Intermediate Eligibility
The prerequisites for the CA Intermediate course have not changed. The direct entry route candidates must, however, put in an 8-month study period in order to take the tests.
CA Intermediate Registration Validity
The CA Intermediate registration is now valid for five years rather than four. Students enrolled in CA Intermediate can only revalidate their registration form once with the required costs.

CA Intermediate New Syllabus 2023
Instead of 8, there will now be 6 papers in the CA Intermediate course. The following adjustments to the CA Intermediate subjects have been suggested by the ICAI:
1.The first paper will be Advanced Accounting since Papers 1 and 5 have been combined into one.
2.Enterprise Information Systems and Economics for Finance are dropped from papers 7 and 8, respectively. The remaining portion is combined into Financial Management and Strategic Management in Paper 6 (50 points plus 50 points).
3.The Companies Act will be fully covered in Paper 2 of corporate law. The CA Foundation level will cover its section of business law.

There will now be two groups, each with three papers.
CA Intermediate Passing Criteria
The standards for completing the CA Intermediate exams will also alter. Therefore, all 6 papers will have 30% MCQ-based questions. Additionally,.25 of the final grade will be subtracted for each incorrect response.
Check: CA Intermediate Classes for the tests in November 2023.
Exemption Criteria for CA Intermediate
If you receive an exemption under the new system, it will apply to all future submissions of that work. This means that the ICAI will consider the exempted papers to have passed permanently. However, in order to receive a CA intermediate result, you must pass the remaining papers with a minimum of 50%.

CA Articleship Training
The students will benefit from the considerable modifications that ICAI has suggested for the CA articleship Training.
Timeframe/Duration of the Practical Training
The length of the CA articleship has been shortened by ICAI from three years to two. The fact that all CA applicants can now become CAs sooner than before is fantastic news for everyone.
However, there is a need for candidates who desire to become practitioners along with the shorter CA Articleship time.
Students who want to work as CAs must have one year of experience at a firm that specialises in chartered accounting. They will then be given a practise certificate.
Existing CAs will be considered to have met this requirement if they have spent one year working for a CA firm in the previous five years. This ailment does

NOTE: In the final year of the articleship, students may complete industrial training for nine months to a year.
CA Articleship Eligibility
According to the CA New Scheme 2023, students must pass both the CA Intermediate group exams and the ICITSS training to be qualified to begin the articleship training.
The change will be advantageous to the student because they can now completely concentrate on the practical training and don't have to worry about studying for exams.
CA Articleship Stipend
Many students sometimes lament the minimal pay they receive for their CA articleship. The stipend will therefore be increased by 100%, per ICAI's decision.
CA Articleship Leaves
The ICAI has decreased the amount of leaves because students are not required to take tests during the practical training. Only 12 leaves are permitted for students per year, for a total of 24 leaves across two years.

ICAI Self-paced Modules
Self-paced modules have been added by ICAI as part of the new education and training programme. These modules are available for independent study and online testing.
Set A, Set B, Set C, and Set D are the four sets that make up the self-paced modules.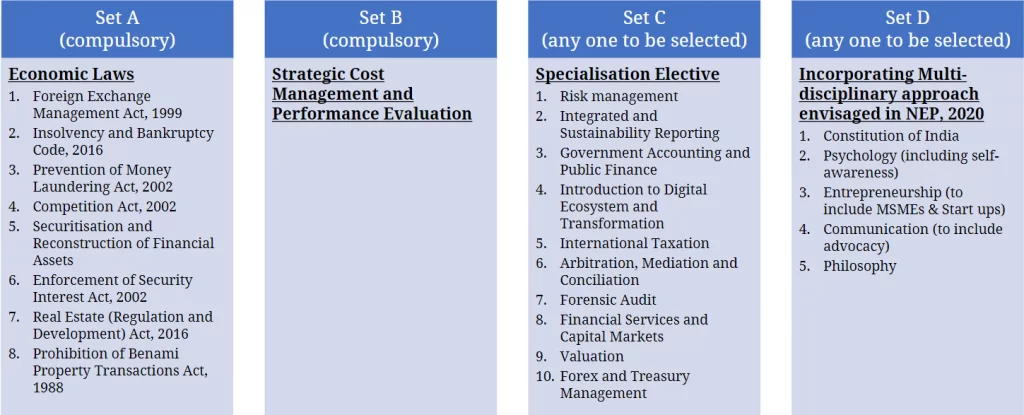 Students must pass these 4 sets of tests in order to be qualified to take the CA Final exams. They must receive more than 50% of the possible points in order to pass these modules.
Sets A and B, which are Economics Law and Strategic Cost Management, are the only two that must be taken. Additionally, here are the CA Final old course's deleted subjects.
The other two groups allow pupils to select their own topics. During the articleship programme, students can study for these self-paced courses online and pass their tests at the same time.
CA Final Course under New Scheme of Education and Training
CA Final Eligibility and Registration
Students must pass both groups of the CA Intermediate exams and finish the ICITSS training in order to be able to enrol in the CA Final course.
But in order to take the CA Final exams, students must:
1.The Advanced ICITISS Course.
2.Upon completion of the practical training, complete the six-month study session.
3.Complete the four self-paced modules.
The registration for the CA Final is good for ten years. After ten years, candidates can revalidate their registration for the required cost.

CA Final New Syllabus 2023
The ICAI has decreased the number of CA Final papers from 8 to 6 in the CA New Scheme 2023. There are currently 2 groups, each of which will include 3 papers.
Significant revisions made to the CA Final Subjects include:
1.Papers 4 and 5's topics will be eliminated and added to the self-paced modules.
2.There won't be any options in Paper 6 anymore. A multidisciplinary case study with strategic management will be used.
3.Capital markets, risk management, and other elective topics are now included in Set C of the self-paced courses.

CA Final Exam Pattern
Like the new CA Intermediate course in 2022, all CA Final papers will have 30% MCQs. Additionally, every incorrect objective response will receive a 25% negative marking.
The CA Final exemption regulations are identical to CA Intermediate. Check out this in-depth article for the most recent information on the CA Final results.
Exit Route – Business Accounting Associate
The new CA Course 2023 will also change the exit route. Students typically drop out of the CA course after failing to pass the final exams.
The ICAI will now issue the certificate of Business Accounting Associate in place of Accounting Technician. However, they must meet the following requirements:
1.Both groups of CA Intermediate were passed.
2.The CA Articleship Training is finished.
3.Completed the information technology and soft skills courses.
4.Completed all 4 of the self-paced modules.
For more information about the new proposed plan, students can view the PPT presentation and pdf created by the ICAI, which is also the author of this article.
Conclusion
This is all about the recently proposed CA New Scheme of Education and Training by ICAI, which will be applicable beginning with the May 2024 examinations. Future chartered accountants will gain from the new course since it will better prepare them for global markets.